Alec
by L.A. Casey
Keela Daley is the black sheep of her family. She has always come second to her younger cousin Micah. Even in the eyes of her mother, Micah shone bright, and Keela faded to black. Now, in adulthood, Micah is a bride-to-be and the spotlight is solely on her. Keela is a low priority…or so she thinks.
Alec Slater is a bachelor, never one to bed the same woman, or man, twice. He is a free agent who does what he pleases and answers to no one; that is until a fiery Irish redhead with a temper to match her hair colour knocks him on his arse. Literally.
She hates to admit it, but Keela needs a favour from the cocky Slater brother, a huge favour. She needs him to not only escort her to Micah's wedding, but to also pose as her boyfriend. Alec agrees to help Keela, but has certain conditions for her to abide by. He wants her body and plans to have it before anyone can say I do.
What he doesn't plan on is losing his heart as well as the possibility of losing his family when someone from his past threatens his future.
Alec owns Keela, and what Alec owns, Alec keeps.
Okay, this Slater Brother novel was quite a bit more fun than the first one in my opinion. Maybe it's because I like the older characters better than the younger ones. And then it was the sexy Slater brothers and a crazy hilarious situation that they all let themselves get swept up in.
You can always expect good times when the plot of a book centers around someone pretending to be someone else's significant other. I mean, there's bound to be non stop entertainment and this book was no exception. Keela was a
little
saner than Bronaugh but not by much, lol. She was a bit of a pushover, but when she had to be tough, she was and that was what made her okay with me. Alec was just a riot and I simply cannot get enough of his insane candidness. The Slater brothers have it by the truckloads! On top of that, Alec used to be a bi-sexual escort! Talk about WOAH! This adds a whole other layer of complicated to this already unstable situation. Hilarious!
Like I said, I liked the plot but it was a bit outlandish. The fun was in Keela fighting her attraction to Alec and Alec basically telling her that she was gonna beg for it before everything was said and done. Well then! Excuse me, Alec! Then about 3/4 in, the plot twist enters reminding me that there was a darker side to Alec Slater. I honestly did not like what he ended up having to do to thwart a threat against his family, and I can't even say I understand because he did it for Keela. I don't really think he did. But in the end, he is able to redeem himself we get our HEA (maybe a little too happy) and all is well.
There was a good deal of action in this book and honestly, action/suspense makes the best Romances. Turmoil and danger...how the couple comes out of it is what truly defines them and that's what happened in this book. It was a good read and I really got into it, laughing out loud more than I expected to.
I am excited to read the next Slater brothers book which is about Kane. He is a very mysterious Slater with a lot of past pain to be revealed and the scars to prove it. Literally. Can't wait to find out! So if you haven't started in on this series yet, I definitely recommend it. You won't be disappointed!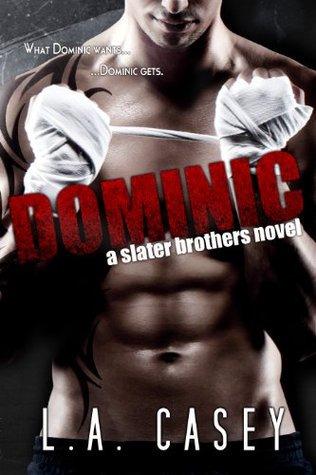 L.A. Casey was born, raised and currently resides in Dublin, Ireland. She is a twenty two year old stay at home mother to an almost two year old German Shepherd named Storm and of course, her four and half year old (the half is apparently vital) beautiful little hellion/angel depending on the hour of the day.
Her first novel, Dominic, was released on March 17th, 2014, and on March 21st, 2014, it became an international Amazon bestseller.