First Debt
by Pepper Winters
Publication Date:

November 12, 2014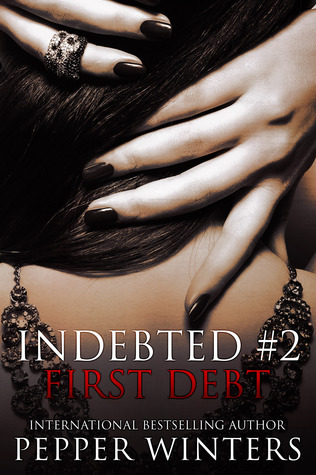 Nila Weaver's family is indebted. Stolen, taken, and bound not by monsters but by an agreement written over six hundred years ago, she has no way out.
She belongs to Jethro as much as she denies it.
Jethro Hawk's patience is running out. His inheritance gift tests, challenges, and surprises him—and not in good ways. He hasn't leashed her but he thinks he might've found a way to bind her forever.
Debts are mounting. Payment waiting.
Pepper Winters has a fan forever.
The story of Nila and Jethro continues, and boy, it's hotter and more dangerous than ever. The relationship, if it can even be called that, between Nila and Jethro has progressed into fatal territory, and from appearances, neither of them care. At least, not in the same way.
Nila was already set to die but Jethro's life now hangs in the balance. I'm super eager to find out how this is going to play out. It's so exciting and Winters' writing is just so amazing, you get sucked in and she doesn't let you go until you have reached the proverbial finish line. LOVE IT.
So in this addition to the series, Nila has to pay the first debt. Now for some reason, I didn't think Jethro was going to go through with it. But he did. He really did, though not in the way he was supposed to. Still, it was BAD. But it was the first glimpse we got of his softening toward Nila and further explored how much Jethro hates his family. There are so many mysteries to be discovered about Jethro....like what dark pain is he struggling to control and how is this mysterious sister helping him? And what about the brothers? It appears Jethro has one brother who seems to have a heart and one who is an evil bastard like their father. Could Winters be playing us into thinking they are really like this? Could it actually be the opposite? And the way the rest of the men are acting now...like Nila is their family now instead of their prisoner. I seriously think my head is going to explode by the end of this series.
Honestly, I can't even begin to ponder where Winters is going with this. I just have this feeling that things are gonna get so damn bad before the end that I won't even be able to handle it. And that says A LOT. So many QUESTIONS, I can't stand it!
Please, Pepper. I need
Second Debt
now. And then all of the others right after that. Seriously, if you aren't reading this series, then you're missing out. I recommend this series for sure. Go out and grab it now!