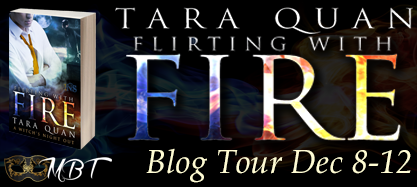 A Witchy Winter in Washington, D.C.
by Tara Quan
Hi! I owe DJ a huge thank you for letting me visit her book corner today. I'm officially here to chat up Flirting with Fire, but I thought I'd take this opportunity to talk about my inspiration for the entire series.
A Witch's Night Out is set in a Washington, D.C. that is ever so slightly different from the one we all know—think Buffy the Vampire Slayer's Sunnydale or the San Francisco of Charmed. Here, witches and warlocks live completely normal lives, with a few minor perks from spells and enchantments.
Mages in this world are divided into two casts—elementals and non-elementals. While those who can harness earth, fire, wind, or water literally hold all the power, they can't channel this raw energy into useful spells. For this reason, they employ familiars, the shape-shifting half of the magical community who spend much of their lives in feline form.
This trilogy came together right after last year's Polar Vortex, when the sudden temperature change in the capital forced me into a period of hibernation. A clueless fire mage kicks off this set of sexy stories on Halloween when he is confronted by Catalina, his cat familiar roommate who he hadn't realized was human.
The weather gets progressively colder (requiring creative methods to share body heat), in Frosty Relations, which is set on Christmas Eve. In this wintery tale, Jack Frost, an abrasive warlock meets his match in the form of his law firm's HR assistant. Capping off 2014's witchy winter is Fireworks at Midnight, a story about two life-long friends who are forced to face their feelings for each other with spectacular fan-fare.
This trio of paranormal romances are now available at major all eBook retailers.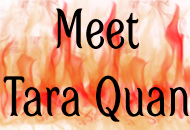 Globetrotter, lover of languages, and romance author, Tara Quan has an addiction for crafting tales with a pinch of spice and a smidgen of kink. Inspired by her travels, Tara enjoys tossing her kick-ass heroines and alpha males into exotic contemporary locales, paranormal worlds, and post-apocalyptic futures. Armed with magical powers or conventional weapons, her characters are guaranteed a suspenseful and sensual ride, as well as their own happily ever after. Learn more at www.taraquan.com.
Publication Date:

October 24, 2014
Series:

A Witch's Night Out #1
Genre:

Paranormal Romance
Apprentice witch Catalina Gato is prohibited from assuming her human form in front of her new employer without his express permission. Since he doesn't know he's a warlock, he can't give it, leaving her in a familiar's limbo. To make matters worse, she's barred from leaving his house, and her attempts to enlighten him of his true nature results in burnt notes, charred walls, and exploding laptops.
On All Hallows' Eve, she gets one night of freedom. Deciding some no-strings-attached sex might take the edge off the intense attraction she feels for her clueless boss, she signs up for Madame Eve's service. When she meets her masked mystery date at the Castillo Capital, she realizes she might have gotten much more than she bargained for.
After being gifted a one-night stand from his annoying best friend, attorney Leo Difuoco reluctantly ventures to the Castillo Capital to celebrate Halloween. When he meets his oddly familiar green-eyed date in a Cat Woman costume, flames literally ignite, sparks magically fly, and life as he knows it changes forever.