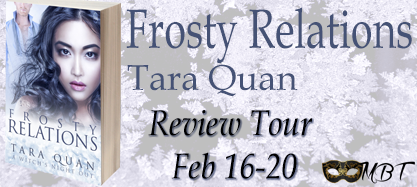 Frosty Relations
by Tara Quan
Series:
Witch's Night Out #2
Publication Date:
November 21, 2014
Genre:

Paranormal Romance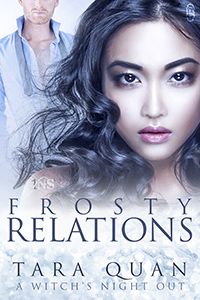 Attorney Jack Frost never understood why holidays did weird things to people. His secretary went on vacation, his best friend ditched their annual Aspen trip, and the law firm's stubborn human resources assistant refuses his clerical support request. What's a warlock to do on Christmas Eve but go on a 1-Night Stand? But when an oddly familiar empath shows up as his date, this ice mage has a hard time denying the magic of the winter solstice.
Faced with an anemic employment market and financial woes, college graduate and former witch Mina Mao lands an HR assistant job at Frost and Sons. Having spent her day saving Christmas from Frost Junior's Grinch-like behavior, she accepts the gift of Madame Eve's service and heads over to the Castillo Capital. When her date turns out to be her childhood crush and workplace nemesis, she braces herself for the sexiest icy ride of her life.
This was a very, very short read that I zipped through in about an hour. There were some strong aspects, such as the writing and the characters. Then there were some weaker elements, such as the story flow. But overall, it was a good book.
I liked the paranormal aspects a lot. Quan seems to have really nailed down the powers her characters possess and just makes sure they each stay in their lane. This is nice because it keeps down confusion. Jack is an ice mage and Mina is an empath. And done.
Mina was a fun, amiable character who was easy to like right off the bat. Jack took a while. He came off a bit whiny and annoying at first but then morphed into Mr. Super Hotness about halfway in. So he redeemed himself and the rest of the book was a pleasure to read.
As for the flow...it was a bit weighed down with all the extra information we get in the first half of the book. In some places I felt I didn't need to really know what I was being told. Other times, important info could have been relayed in fewer words. It doesn't make this a bad story, but it's definitely something that held the book back from being really great.
Quan's solid writing really kept this story alive. Her style had a nice ring to it and I appreciated the ease in which her words flowed together. So, another plus for this story.
I now need to read the other Witch's Night Out stories and see what else Quan has up her sleeve. From the reviews I've read, there's no way I will be disappointed and I'm looking forward to finishing up this series.
Globetrotter, lover of languages, and romance author, Tara Quan has an addiction for crafting tales with a pinch of spice and a smidgen of kink. Inspired by her travels, Tara enjoys tossing her kick-ass heroines and alpha males into exotic contemporary locales, paranormal worlds, and post-apocalyptic futures. Armed with magical powers or conventional weapons, her characters are guaranteed a suspenseful and sensual ride, as well as their own happily ever after. Learn more at www.taraquan.com.