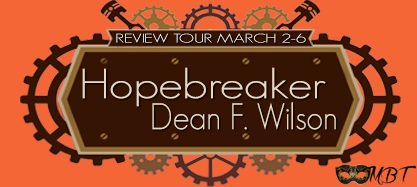 Hopebreaker
by Dean F. Wilson
Series:
The Great Iron War #1
Publication Date:

December 15, 2014
Source:

Received from author and Masquerade Book Tours in exchange for an honest review.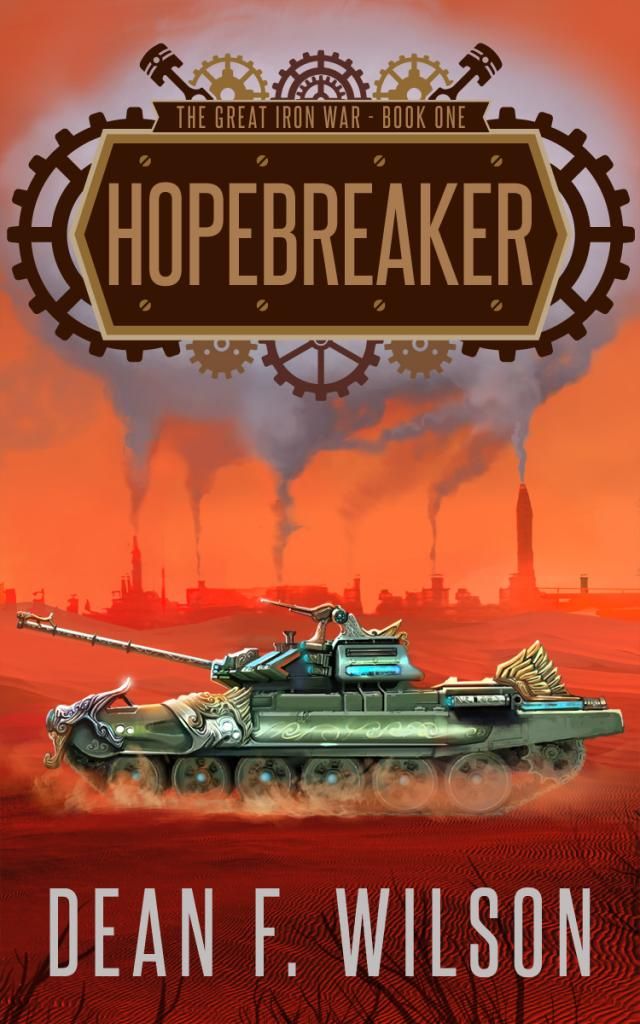 In the world of Altadas, there are no more human births. The Regime is replacing the unborn with demons, while the Resistance is trying to destroy a drug called Hope that the demons need to survive.

Between these two warring factions lies Jacob, a man who profits from smuggling contraceptive amulets into the city of Blackout. He cares little about the Great Iron War, but a chance capture, and an even more accidental rescue, embroils him in a plot to starve the Regime from power.

When Hope is an enemy, Jacob finds it harder than he thought to remain indifferent. When the Resistance opts to field its experimental landship, the Hopebreaker, the world may find that one victory does not win a war.
The best way I can describe this story is a "solid" read. It didn't blow me away or present anything in shocking new light, but it was a lot of fun and I did enjoy it a great deal.
Our author is very skilled with words and forming active passages, skillfully avoiding the trap of dreaded passive voice and lagging sentences. The plot itself moved along at a good pace and didn't tend to wander more than was good for it.
Jacob was a somewhat stereotypical "reluctant hero" type, who starts out in for it for himself but is swayed by his conscience along the way, but that's a recurrent character for a reason; we enjoy it, and Jacob was enjoyable.
I found the side characters interesting as well, and fitting in the scenario of the story: hard people in a hard time.


Dean F. Wilson was born in Dublin, Ireland in 1987. He started writing at age 11, when he began his first (unpublished) novel, entitled The Power Source. He won a TAP Educational Award from Trinity College Dublin for an early draft of The Call of Agon (then called Protos Mythos) in 2001.
His epic fantasy trilogy, The Children of Telm, was released between 2013 and 2014.
Dean also works as a journalist, primarily in the field of technology. He has written for TechEye, Thinq, V3, VR-Zone, ITProPortal, TechRadar Pro, and The Inquirer.