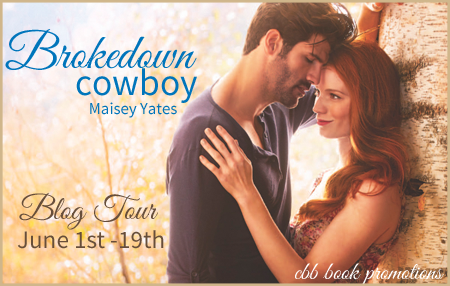 Brokedown Cowboy
by Maisey Yates
Genre:

Contemporary Romance
Publication Date:

May 26, 2015 by Harlequin
Source:

Received from author and CBB Book Promotions in exchange for an honest review.
There are lines best friends shouldn't cross, but in Copper Ridge, Oregon, the temptation might be too much…
If practice makes perfect, Connor Garrett should be world champion of being alone. Since losing his wife he's concentrated exclusively on his family's ranch. Until Felicity Foster needs a place to stay and Connor invites her to move in temporarily. That's what friends do. What friends don't do? Start fantasizing about each other in their underwear. Or out of it…
Since high school, Liss has kept her raging crush in check. But helping Connor rebuild his life only reinforces how much she longs to be a part of it. One explosive encounter, and she'll discover that getting what you always wanted can feel better than you ever dreamed…
Bottom line? I adored this book. Read it twice just because and loved it even more the second time around. Part-Time Cowboy was good, no doubt. But Brokedown Cowboy was better. Here's why.
I loved that there was history between Connor and Liss, that they'd been best friends practically all of their lives. That meant we didn't have to sit through that awkward "getting to know you" phase. The reader is given so much insight into their pasts that when the romance happens, it's perfect. The timing, the passion. It just worked. Connor and Liss' love has been slowly simmering for years and this book put the finishing touches on it. It was kind of one-sided for most of the book, but that was the beauty of it. It was Connor becoming aware of what was happening between them that just made this book magical.
Connor was absolutely adorable because he really didn't have a freaking clue about the way Liss felt about him all these years. I just loved the parts when she's sharing her feelings with him and he is just blown away and doesn't even know how to process it. It was just too cute. There is this innocence about Connor that few male characters in romance books have. Most of them are players, billionaires, rock stars, and MC presidents, none of which are innocent in any way, shape or form. But Connor is just a normal guy with a ranch and some cows. Again I say, Connor is ADORABLE.
Liss was just a fantastic female MC. She was funny and sweet, but fiery when she needed to be. She had no problems letting Connor have it, because despite his adorableness, he was also an asshole due to the grief that just wouldn't let him go. Liss refused to accept that as an excuse and just wouldn't let up on him or give up on him. She wanted to help him through it and be his light at the other side of that dark tunnel. I felt myself being just as frustrated as Liss with Connor sometimes. I adored Connor but damn, he was stubborn! Happiness and redemption are staring him right in the face and he just refuses to open his eyes and see it. But when he finally does, damn it's beautiful.
Another great aspect to Connor and Liss' relationship was the back and forth banter. Sometimes it was just hilarious and I had quite a few good laughs at some of their conversations as well as some of the thoughts running through their heads. Giggles galore, I tell ya.
I have to mention the great writing in this book and the wonderful pacing. Not a lot of time was wasted on events that didn't move toward the happy ending that we know is coming for Connor and Liss. That made the slow burn worth the wait. Everything that happened was "useful" and benefitted the journey to that coveted happily every after. This is hard to do, harder than most think. It's why a lot of romance novels are either rushed or drawn out and boring. Yates stuck to what was important and didn't stray. So bravo to her for that.
So what else can I say? I recommend this book just because it's damn good. It's super rare for me to read books twice, so that should say a lot. Please read this book as well as its predecessor. It's just a great series to get into and I just know you will love it as much as I do. There's just no way you can go wrong.
Goodreads | Amazon | IndieBound | Barnes and Noble
Check out my review of Part Time Cowboy!
Next book in the series!
USA Today Bestselling author Maisey Yates lives in rural Oregon with her three children and her husband, whose chiseled jaw and arresting features continue to make her swoon. She feels the epic trek she takes several times a day from her office to her coffee maker is a true example of her pioneer spirit.
In 2009, at the age of twenty-three Maisey sold her first book. Since then it's been a whirlwind of sexy alpha males and happily ever afters, and she wouldn't have it any other way. Maisey divides her writing time between dark, passionate category romances set just about everywhere on earth and light sexy contemporary romances set practically in her back yard. She believes that she clearly has the best job in the world.