What makes Falling different from every other romance novel out there?
Besides being written by me? Kidding. Seriously, I think it's the, "oh, I see where this is going" feeling you get when you read the prologue. You feel that those first words is telling you what this entire story is about and how it's going to end, but then you keep reading and you're gasping and now saying, "I HAD NO IDEA THAT WAS GOING TO HAPPEN! SERIOUSLY, WTF WAS RYANNE ANTHONY THINKING?"
When you're not writing, what do you do for fun?
Antagonize my daughter. I believe in payback and I like to give as much as I'm given. Tonight, I'm planning to jump on her bed while she's sleeping and screech that I don't know where my own bed is. That'll teach her not to jump on my bed, waking me at six in the morning and asking me to get her a bottled water.
Name a book by another author that describes your personality in the title.
Checkmate: Neighbor from Hell Novel
Giggle. Kidding again. I'd say, Taking Chances
When writer's block hits, what's the first thing you do?
Fire up Seether on my Spotify while staring at pics of Brock O'Hurn, Colin Wayne, Henry Cavill, Trey Songz, Shemar Moore, Tyson Beckford and my husband. NOT KIDDING.
Are you a panster or a plotter? Tell me the reasons for your choice.
I plot everything, for the most part. I think a plan is easier to follow BUT that does not mean that when I'm doing something, writing especially, I won't completely change my mind when something else suddenly feels better suddenly. Oh, if only you knew.
How do you handle negative reviews?
Depends on what was said. If it was just that the book wasn't liked, I can deal with that. It's honest so there is nothing to handle. I realize I am not going to please everyone. If it's negative and obvious to me that the person didn't READ the book, I take offense to it and comment. I can usually tell by the review if its been read or skimmed. I don't comment at all when someone insults me.I don't think I need to, as I feels as though I am just feeding it. Everyone is entitled to their opinion and well... I just nod and move on.
If you could spend one day as a character in a book, which book would it be and what character would you play?
Sense and Sensibility
, Elinor Dashwood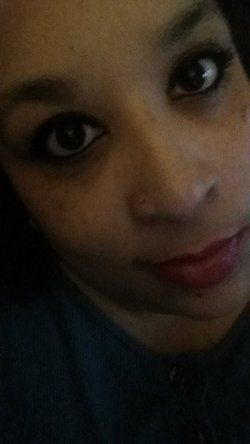 Let's see, what can I say about myself... I'm a writer. How's that? Not enough? Um, okay. So hate writing about myself.

I'm a wife, mother and I LOVE words. I love the way they can come together and make a reader laugh, cry, yell, scream and curse like a sailor with itchy... skin. I've held several jobs/careers and ignored the ramblings in my head, begging to be placed in a novel or two.

I got my first non-picture book from my dad. He read any and everything and urged me to do so. Tristan and Isolde will always have a special place in my heart, so much so that I named my daughter 'Isoldah', (same pronunciation).
Publication Date:

July 15, 2015
With friends and siblings like hers, Kimber Forrest felt like all she had were enemies when dealing with her fractured love life…
Kimber wanted to be a lawyer almost as much as she wanted Roland Sampson, her older brother's best friend. After pining for him for two years, Kimber finally accepts that to Roland, she will always be "his best friend's kid sister" and nothing more.
During her first year of college, Kimber meets Samantha and her twin, ultimate bad-boy Jaxen Malloy, drummer for Negative Ion. Tatted. Muscled. Beyond gorgeous. Soon Kimber finds herself forgetting Roland and thinking only of Jaxen, much to Samantha's disappointment. Like Kimber's brother, Samantha wants Kimber as far away from Jaxen, female enemy number one, as possible since she knew all Jaxen would do is viciously hurt her. Not this time, Kimber insisted. Well-schooled on Jaxen's reputation, Kimber decides to take what she can get, and ignore all the warnings to stay away from the handsome bad-boy.
Will Jaxen ever think of Kimber as something other than his "annoying" sister's friend or could he possibly be falling for her, too? Kimber hoped so and, to find out, she was willing to take the risk of Jaxen breaking her heart… and soul.