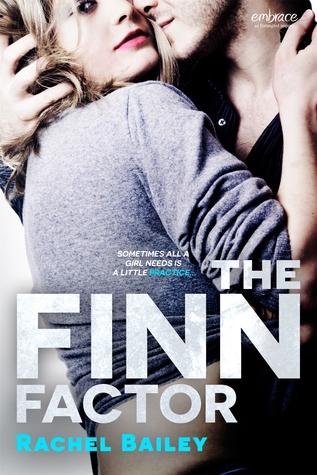 The Finn Factor
by Rachel Bailey
Genre:

NA Contemporary Romance
Publication Date:

September 28, 2015
Format:

eBook (NetGalley)
Source:

Provided by the publisher in exchange for an honest review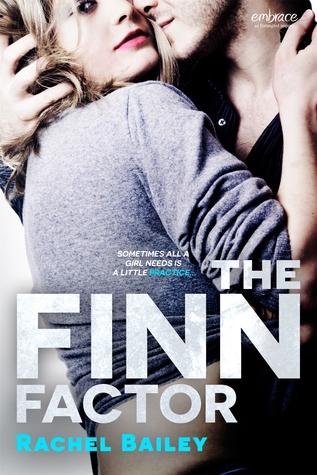 A new adult romance from Entangled's Embrace imprint...
Sometimes all a girl needs is a little practice...
It's been twelve months, three days, and eleven hours since accounting student Scarlett Logan made it past a second date. A pitcher of mojitos in hand, she employs her supreme graphing skills to narrow things down to one horrifying explanation. Kissing. Clearly someone needs to teach her how to kiss properly. Like, say, her best friend and roomie, Finn Mackenzie. He's safe, he's convenient, and yeah, maybe just a little gorgeous.
Finn knows exactly why Scarlett's boyfriends are disappearing quickly. Him. Not a single guy she's brought home is nearly good enough. And he'll be damned if he lets some loser give her "kissing lessons." No. He'll do the honors, thank you very much. The moment their lips touch, though, everything turns upside down. But Scarlett deserves the one thing Finn can't give her. And if he doesn't put an end to the sexy little shenanigans, he'll teach Scarlett the hardest lesson of all...heartbreak.
What a fun and flirty read! I didn't really know if this book would keep my interest but it intrigued me enough to give it a try. Glad I did! Besides being hilarious (always a plus) it was cute and very sexy and you can't go wrong with that.
Scarlett is the type of MC I love in romance books. She's not pathetic in any way, only adorably innocent when it comes to Finn and her feelings for him. Both of them are actually. I loved how there was this life-changing friendship between Scarlett and Finn for many years before hooking up. I think it made for a more realistic read because they dated other people (and not out of spite) and actually tried to be friends. They became important to each other on a different level before becoming lovers and that's awesome. It means there is a solid foundation for their relationship and it only makes sense when they take the next step. The only two that were surprised were Scarlett and Finn.
I thought Finn was adorably funny and sweet. I loved his personality and especially how he was with his two younger sisters. Their relationship was really cute and he was a great big brother. I didn't really like the whole Finn's-parents-are-dead aspect of the story. For some reason I always feel like the author is trying to add unnecessary drama or on the flipside, eliminate a complication from the plot if both parents are dead. But then there are Scarlett's parents who are hilariously hippie and then I think that I'm wrong. They were a riot, especially Scarlett's mother. I about died during the dreaded "sex talk". You will know what I'm talking about when you read the book. It was freaking hilarious.
This book wasn't erotic really, but it was pretty sexy. There are a couple of sex scenes, but nothing that should make you blush like a virgin unless you are one. I thought they were well-written, like the entire book, and pretty steamy. Always a good thing.
This was a quick read with all the elements that I like in a NA romance. Relatable characters, humor, passion and friendship. I definitely recommend it and look forward to more books from this author.