Insanity
(Mad in Wonderland)
by Cameron Jace
Series:

Insanity #1
Genre:

YA Fantasy
Publication Date:

December 19, 2013
Format:
eBook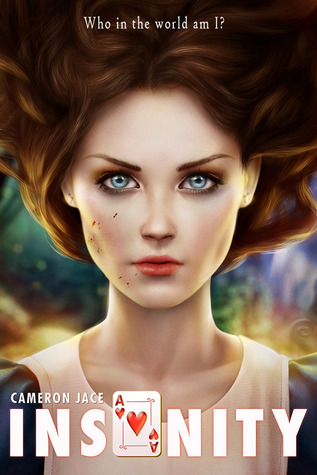 After accidentally killing everyone in her class, Alice Wonder is now a patient in the Radcliffe Lunatic Asylum. No one doubts her insanity. Only a hookah-smoking professor believes otherwise; that he can prove her sanity by decoding Lewis Carroll's paintings, photographs, and find Wonderland's real whereabouts. Professor Caterpillar persuades the asylum that Alice can save lives and catch the wonderland monsters now reincarnated in modern day criminals. In order to do so, Alice leads a double life: an Oxford university student by day, a mad girl in an asylum by night. The line between sanity and insanity thins when she meets Jack Diamond, an arrogant college student who believes that nonsense is an actual science.
I really enjoy retellings and this one was no exception. I thought the concept was great and the characters interesting. However, this book was confusing as hell! I had no clue what was going on half the time, yet I couldn't stop reading it. I just had to find out what happened.
The plot is a good one, nevertheless. The Cheshire Cat is a psychotic serial killer who is using his kills to try and attract the girl he thinks is the "real" Alice because he wants an ally for the Wonderland Wars (I think). But everyone in this book is a psycho, including Alice (who is also a killer), Professor "Pillar" (and his intense hookah addiction), and Jack Diamonds (I never had a clue what this fool was talking about).
A special treat was how the author made Lewis Carroll a part of the plot. In this book, Carroll didn't actually create Wonderland. He found it and shared it with the human world. I thought that was cool. Alice has several interactions with Carroll throughout the story, and I can't say I truly understand what the interactions were all about. It seems Carroll is convinced that Alice is the Alice, but the Wonderlanders aren't at all convinced. I liked that about this book because I couldn't be sure which was true, and I still don't know. It's really good way to keep people reading.
So although I thought the characters and plot were interesting, I can't give this book a higher rating due to the fact that it's very random and confusing. It was hard (for me) to truly get a grip on what was going on. But I'm intrigued to keep reading, and hopefully, have this series make some sense.